Quality Enhancement Cell (QEC)
Introduction
To enhance the quality of higher education in Pakistan, HEC has set up Quality Assurance Agency. It is to ensure the provision of high quality education compatible with international standards.HEC is aspiring to raise the standard oh higher education in order to rank Pakistan amongst one of the leading countries in the education sector. One of the measures taken by QAA in this regard is establishment of Quality Enhancement Cells in the various Universities.
So far 84 QECs are operation in different public and private sector universities of the country. The Quality Enhancement Cell at Frontier Women University was established in 2007 and since then has been involved in performing its functions effectively and efficiently. The QEC is involved in the Self Assessment Process, Surveys, Capacity building of faculty and staff, awareness of all the stake holders on Quality of Education, devising policies for Quality Assurance and Enhancement at the affiliated colleges and much more.
Vision
To become a leading QEC in the country.
Mission of QEC
To promote public confidence that the quality and standards for the award of degree and overall quality of knowledge being imparted by the university are being maintained, enhanced and safeguarded.
Functions of QEC
The Quality Enhancement Cell (QEC) is to be headed by a Dean reporting directly to Vice Chancellor/Rector. He is to be the correspondent with the outside bodies.
QEC is responsible for promoting public confidence that the quality and standards of the award of degrees are enhanced and safeguarded.
QEC is responsible for the review of quality standards and the quality of teaching and learning in each subject area.
QEC is responsible for the review of academic affiliations with other institutions in terms of effective management of standards and quality of programs.
QEC is responsible for defining clear and explicit standards as points of reference to the reviews to be carried out. It should also help the employees to know as to what they could expect from candidates.
QEC is responsible to develop qualifications framework by setting out the attributes and abilities that can be expected from the holder of a qualification, i.e. Bachelors, Bachelor with Honors, Master's, M. Phil., Doctoral.
QEC is responsible to develop program specifications. These are standard set of information clarifying what knowledge, understanding, skills and other attributes a student will have developed on successfully completing a specific program.
QEC is responsible to develop quality assurance processes and methods of evaluation to affirm that the quality of provision and the standard of awards are being maintained and to foster curriculum, subject and staff development, together with research and other scholarly activities.
QEC is responsible to ensure that the university's quality assurance procedures are designed to fit in with the arrangements in place nationally for maintaining and improving the quality of Higher Education.
QEC is responsible to develop procedures for the following:
Approval of new programs
Annual monitoring and evaluation including program monitoring, faculty monitoring, and student's perception.
Departmental review
Student feedback
Employer feedback
Quality assurance of Master's, M. Phil. And Ph. D. degree programs.
Subject review
Institutional assessment
Program specifications
Qualification framework
Organizational Structure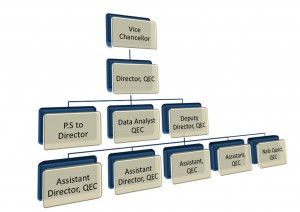 University Statutory Bodies
| | | |
| --- | --- | --- |
| S No. | Name of the statutory body | Date when acquired |
| 1 | Syndicate | not acquired yet |
| 2 | Academic Council | 31st May 2012 as Dir. QEC |
| 3 | Board of Studies | 31st May 2012 as Dir. QEC |
| 4 | Board of Faculties | 31st May 2012 as Dir. QEC |
| 5 | Board of Advanced Studies and Research | 31st May 2012 as Dir. QEC |
| 6 | Graduates Committee | not acquired yet |
| 7 | Selection Board | not acquired yet |